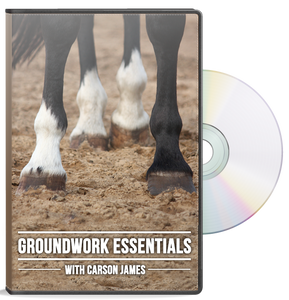 Groundwork Essentials DVD
Note:
Buckaroo Crew members get access to all the videos on this DVD (plus all my other DVD's) and all my training courses too
. Learn more about the Buckaroo Crew here: 
https://buckaroocrew.com
Many problems that you'll encounter with your horse are fixed from the ground up. Correct and effective groundwork will
build trust in your horse, prevent future problems, and transfer under saddle
. When I train a horse, no matter if he's had 0 or 2,000 rides,
I always start with the groundwork you'll learn in this DVD
. It's one of the many keys to creating a
reliable, level-headed horse.
On this DVD you'll discover...
How to get your horse comfortable with you being above his back

 

even if he's already "broke". Many horses will allow you on their back, but it's a game changer once they actually like it.
How to become the leader, earn respect, and cause any horse to see you as the alpha who has the his best interest at heart.
Building bravery through desensitizing

 

and teaching your horse to be able to handle unexpected or new "scary" things.
​The what, why and how of lunging. We'll go through why it's important, why you should do it, and what you should do for the best results.

​And much, much more.