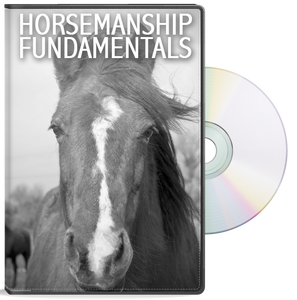 Horsemanship Fundamentals DVD
Note:
Buckaroo Crew members get access to all the videos on this DVD (plus all my other DVD's) and all my training courses too
. Learn more about the Buckaroo Crew here: 
https://buckaroocrew.com
This is what every horse should know in his first 30 rides
(but most don't). In this DVD, we'll build a rock solid foundation that will continually grow over time. When people bring horses to my clinics, they are
always shocked at what their horse doesn't know
. They believe their horse is at a higher level, but as soon as I do some tests, it's quickly apparent to the horse owner, the horse, and myself that there's a lot missing.
These missing pieces are crucial
, and it's a huge waste of time to try and teach your horse anything unless he understands and can
fluently
, easily do these things first.
On this DVD you'll discover...
Controlling your horse's attention and thoughts

 

to be focused on you (the rider) instead of (sometimes unexpected) distractions.
Individual front and hind end control

 

which is "step 1" for more advanced training like side-passing, flying lead changes, circles, spins and turns.
How to create a super responsive horse

 

that both stops and goes with minimal body movement or rein use from the rider.
​Transitioning smoothly between walking, trotting and loping

 

and why NOT doing this is one of the main causes of horse wrecks.

​And much, much more.