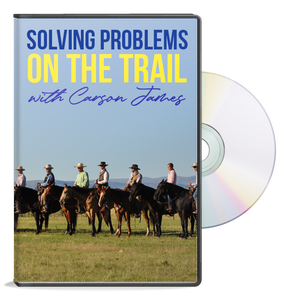 Trail Riding DVD
Note:
Buckaroo Crew members get access to all the videos on this DVD (plus all my other DVD's) and all my training courses too
. Learn more about the Buckaroo Crew here: 
https://buckaroocrew.com
In this DVD I cover how to fix virtually
every problem you may encounter while on a trail ride.
You'll follow along with me and 3 other riders who have horses with major problems on the trail. Watch and learn as we
address the issues and see positive changes within just a few minutes
. Maybe you've got a horse that wants to always be in the front. Maybe you've got a horse that always wants to go back to the barn or be near his buddy. Or maybe you've got a horse that kicks or bites at the other horses. Don't worry.
I've got you covered
!
On this DVD you'll discover...
How to drastically decrease the chances of an unexpected buck or bolt

 

by teaching your horse to handle pressure when spooked or encountering random objects.
How to train your horse to

 

easily and willingly cross logs, streams, or any other random thing

 

they're nervous about.
Useful tips that will make your trail ride more safe, more comfortable, and more fun

 

plus I'll give you my secret fly spray formula.
​How to eliminate problems you'll encounter on the trail

 

like buddy sour, barn sour, always being in the front, biting, kicking and more.

​And much, much more.